Virtual Vendors Product
For Virtual Vendors you have engaged with, you can view their product list in the Virtual Vendors Product. Under Vendors drop down menu, select Virtual Vendors Product.

This page is to display a list of products sold by your virtual vendor.
The purpose is to help you identify the vendor and product that you can match to your Smart Ingredient. See Smart Ingredient to learn how to add vendor's product to your Ingredient.
You can also update the price for the products sold by your Virtual Vendor in this page.
At the Select Virtual Vendor drop down, choose the vendor list you want to see. A list of products sold by the vendor will be displayed.

At the

, select

to update the product information.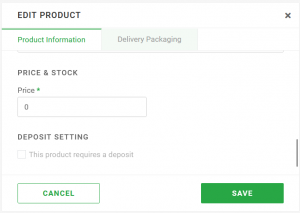 Once you have updated the price to the latest, remember to click
. The new price will be added into your list.
All price updated in your list will only be reflected in your database and is not shared to the general shared database.