Signing up as Operator/Vendor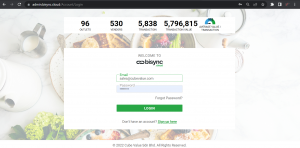 To sign-up for a Bisync account, just click on the sign-up icon above or click here.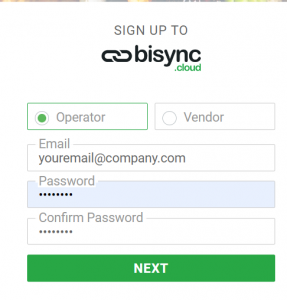 Once you are in the sign-up page, select whether you are signing up as:
Operator – Restaurant Owner, Central Kitchen Operator.
Vendor – Vendor/Suppliers selling to restaurants and central kitchen.
Type in your email and your password
*note: The email you use to register this account will be the Master Account for your company/restaurant.
Click Next
If you receive a prompt that the email address has been used/unavailable, you can:
Reset Password
Use different email address
Contact us at info@cubevalue.com indicating that your email address has been used.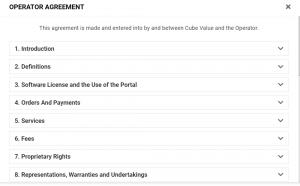 You will see the Operator/Vendor Agreement, scroll down to the bottom of the agreement.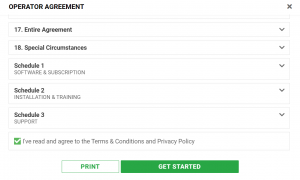 To get started, make sure you tick the checkbox of the Agreement to the Terms and Conditions.
Click Get Started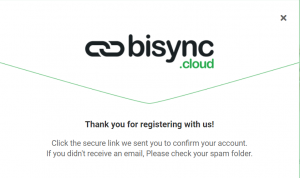 A verification email will be sent to your registered email address.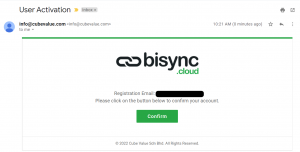 You will receive an email from info@cubevalue.com, if the email does not appear in your inbox, try checking your junk mail folder/spam folder.
Click Confirm in the email to complete your registration.
You can now sign in to Bisync and add your company's details.
Fill in your phone number and name.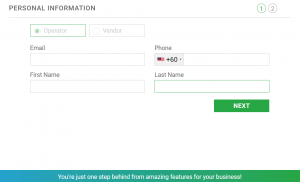 Click Next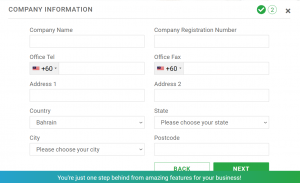 Fill in your company's full name, Business Registration No., contact details and address. Once you have completed the details on this page, just click Next to enter Bisync's Dashboard.