Active PO – Receiving & Consolidation
Receiving and consolidation on Bisync is done under the Active PO function.
For steps to Download/Export Invoices, scroll down.

Only Purchase Order with To Ship status can perform consolidation. To consolidate a Purchase Order, highlight over

and click on

to view the Purchase Order.

On this Purchase Review Page, you will see 

button besides the PO that allows you to Download/Print/Copy (to Whatsapp).
Scroll down to Product List. You can modify the quantity on Receiving and Bisync will reflect the changes made.
Consolidate – Quantity received is the same as quantity ordered.

Variance – Quantity received is different from quantity ordered.

Undelivered – Supplier did not deliver the product as ordered.

Scroll down to input remarks and reviews.

This area allows you to input more details to help you in managing your purchases better.
Click
once you have inputted all the details.
Items received will automatically be added into your Inventory list.
Click on  

to see the changes done to the document.

Bisync keeps track of all the changes made to the documents from submission of Purchase Order to Consolidation.
For Master Account and Regional Admin, you can go in to amend a consolidated document if your team member created an error that require your access level to amend. Just go to

and click on

to edit.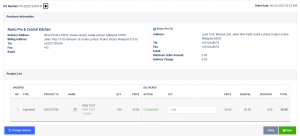 For Cloud Vendor consolidation, you can only change the received quantity. For Virtual Vendor, you can amend both the price and quantity.
Once completed, click to
complete the steps.
To download/Export Invoices, click on the

.
You can filter by dates, outlets, between, all reports, consolidated POs or Outstanding PO and sort by Invoice Date or PO Date.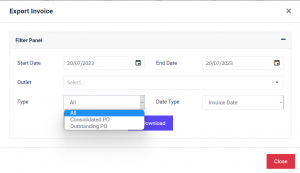 Click

to download the excel file.
Example of the downloaded file: