Creating Company
To add another company into your account. Go to Admin, in the Drop-Down menu, click Company

Key in your company's details as precise as possible as these details will appear in the Purchase Order you create.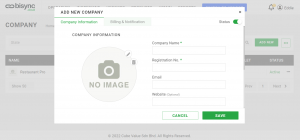 Click Save once you have completed the Company Information.
Now you can start to add Outlet(s) to the company you have created.
If you wish to add more details to the Company. At Status, hover over the 3 dots, you will be able to view 

, edit

 or delete

the company. Select Edit


You will see 3 tabs, Company Information, Financial Information and Billing & Notification as well as the Active Toggle

for your company's status.
Select Billing & Notification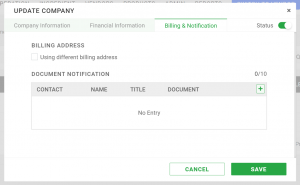 If you have a different Billing address, just tick the checkbox to insert new Billing Address.
To add notification for users, click

icon. Key in Email Address, Name (optional field) and Title (optional field)
Scroll down to select the documents you want the user to be notified for. Once completed, click Save. You can add as many email notification users as you want.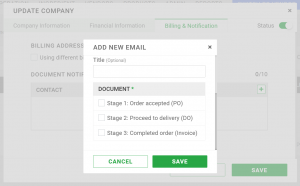 Once you have completed adding users for the Billing & Notification, click Save.