Inventory Management
Inventory management is located under the Operations drop-down menu. Select inventory to display the page. To learn how to do inventory count on mobile, click here.

You can choose to do inventory count using Spot or Full as well as by Category/Group or Location.
Full – Full inventory count is when each and every item in your store is counted and recorded. This differs from a partial inventory count when you count only some, but not all, of your products. It is recommended to conduct a full count.
Note: A full inventory count should always be completed when your store is closed. This ensures that no items are counted twice, or sold after they have been counted.
Spot – Spot or regular partial inventory counts helps you to keep on top of your inventory and ensures that your end-of-year inventory count runs more smoothly.
Details by Category/Group – Inventory count base on specific groups across the entire outlet regardless of locations.
Details by Location – Inventory count base on storage location. Each location's value will be added to show total value when view by Category/Group.

On each item, you can key in base on Inventory Unit, Recipe Unit or the combination of both. Loose Count is designed for you to key in loose weight for items such as beverage like alcohol which are sold in small portions, loose herbs and spices that is stored outside of it's original packaging.

By configuring the conversion in the Smart Ingredient. You will be given 4 variants to enter your inventory count. From Recipe to the Receiving Unit, this will cut down on your counting process for each ingredient.
Important Note: You will not see the latest stock details until the Master Account or Regional Admin approves the Inventory Count. The system is designed as such to encourage accountability and to ensure that the management knows of any latest activities and variances in the inventory count.
If you choose not to approve the inventory count, the system will automatically update the inventory with the latest details after 48 hours.
For Managers: To review the Inventory Count, click

to display the Inventory History page.
Select the item with the Pending Status by going to Action

and selecting

.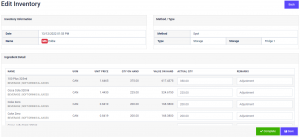 You will see the Edit Inventory page where you can amend the quantity of each item or add remarks before selecting

or

. Upon completion, the inventory will be updated with the latest quantity.