While the general media likes to fawn and crucify Millennial for everything they're buying and not buying, it's about time that restaurant operators start to keep an eye on the next wave of guests with growing income — Gen Z.
Gen Z refers to the generation that was born between 1996-2010 and will be the biggest consumer generation by 2026. This means their purchasing power is going to explode over the next several years and presents a tremendous digital opportunity for restaurants.
Below is a nifty infographic on Gen Z's affinity for digital food ordering, compliments of NetWaiter.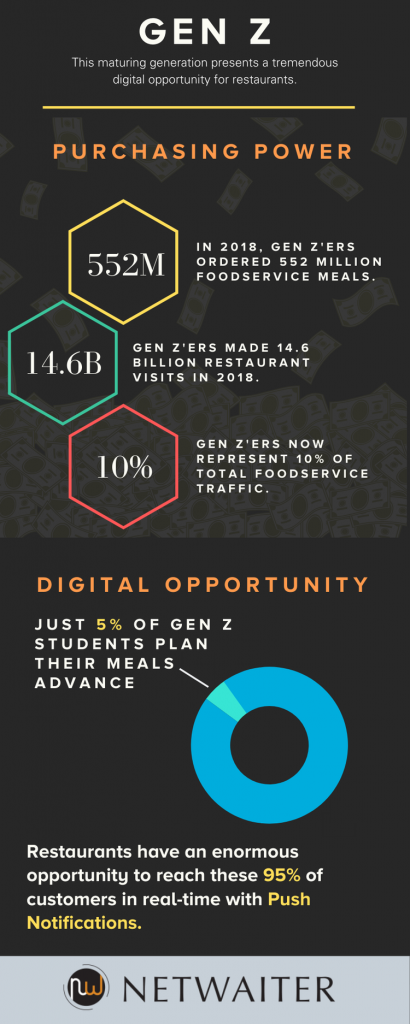 Gen Z's Purchasing Power
Despite man still being in college, Gen Z already wields a considerable amount of purchasing power. In 2018, Gen Z consumers ordered 552 million foodservice meals and made up 14.6 billion restaurant visits. This generation also already represents 10% of the total foodservice traffic.
Sports bars and restaurants looking to market to Gen Z's interest may want to avoid what's worked on Boomers and Gen X. The major sports like the NFL and MLB hold little interest over Gen Z. They do spend a considerable amount of time watching eSports online and playing video games with friends. Eateries should turn to eSports and other alt-sports as ways of connecting to their younger guests.
Restaurants should also embrace the latest tech as a way to connect with and drive interest from Gen Z.
Gen Z are Impulse Food Buyers
Despite making up a chunk of restaurant's business, Gen Z students rarely plan out their meals in advance. In fact, only 5% of them do. That leaves 95% of Gen Z students making up their mind of what to eat while on the fly between classes, work, and fun activities.
This presents a great marketing opportunity for restaurant marketers, especially with the use of push notifications. This marketing tactic allows restaurants to connect and market to potential guests in real-time.
Now, how this ties back to what we do? Simple, with the data from your sales integrated into Bisync, our system can also keep you informed on the latest purchasing trend to look at using your sales vs your spending, base on reports of how your products perform in the restaurant.
With our partners in POS, we provide you with a total package, from front of house to back-office solution. Want to learn more? Drop us a message or write to us at sales@cubevalue.com