Countries in the Asian region are known to have the most holiday around the world. It's also a time when people head to out to eat and soak in the festivities. Especially now when the economy has picked up again, more and more people prefer to celebrate by eating at their favorite restaurants for the holiday specials.
However, for restaurateurs, it can bring challenges with staffing, menu planning, and even budgeting. For some areas like menu and budgeting, they can rely on Bisync to help but there are some areas that a powerful ERP solution like Bisync would not be able to do. That is crafting the right menu (with special festive items) and driving customers to your restaurants, and generate more revenue.
Why is the Holiday Season important for Restaurants?
For some restaurants, the holidays can make up half of their annual revenue. Restaurants tend to be one of the busiest places during this time due to the number of people traveling and dining out.
In fact, 84% of restaurateurs expect to meet or exceed pre-pandemic sales levels during the holidays. 33% of operators expect corporate holiday parties to make a comeback during the holidays.
People tend to spend more money than they usually would during those times of the year. And it is also when most diners come in groups (with family or friends). Therefore, you must ensure your restaurant is ready for the holiday season to succeed in this competitive market.
How To Prepare Your Restaurant for the Holiday Season?
The holiday season is one of the crucial times for restaurateurs and diners. You can give them a memorable experience (and even make them loyal customers) by following these simple tips.
1. Increase Your Table Turnover With Shorter Menus
If you're looking for even more ways to get people in and out quickly during the holidays, shorten your menus (and serve smaller portions). You don't want to overwhelm your customers with too many choices or varieties of food.
You should also consider creating a holiday menu. Think about what you're serving and how it can fit into the holiday theme.
And while you are at it, answer these questions to understand how prepared you are for a holiday menu:
Is your team trained to manage restaurant holiday specials efficiently?
Do the servers know how to manage large groups of people in a crowded restaurant?
Is your kitchen staff fully prepared (and properly trained) to prepare festive specials?
Can you revise the menu items while retaining quality for small and large orders?
Are the ingredients for your new menu easy to stock or available easily?
How would you manage online orders when all your staff is engaged in serving your customers in the restaurant?
2. Make Reservations a Must
With a restaurant online ordering facility, you can allow customers to reserve a table beforehand. This will assure them a table even when the restaurant is crowded.
Our sister company that sells cloud-base POS has that functionality if you are interested, just drop us a message at sales@cubevalue.com and we'll connect you!
Encouraging customers to make a reservation has four more benefits:
Higher chance of generating good revenue: When people reserve a table, they are more likely to show up and might even come in groups, increasing your overall income.
FOMO: When you advertise that pre-booking is a must, it creates a sense of FOMO (Fear Of Missing Out) and encourages people to book as soon as possible. You can even consider offering a 5-10% discount on table reservations to increase the FOMO further.
Better preparation: When you know how many people are likely to come to your restaurant, you can better schedule your staff, prepare for them, and provide a customer experience.
Less waiting: By making reservations a must, you can avoid long queues in your restaurant during the festive season while still filling all the tables.

Note: If you're concerned about customers directly walking in and not finding a table (which no restaurateur wants), offer 70% tables online (for reservations) and keep the rest for walk-in customers.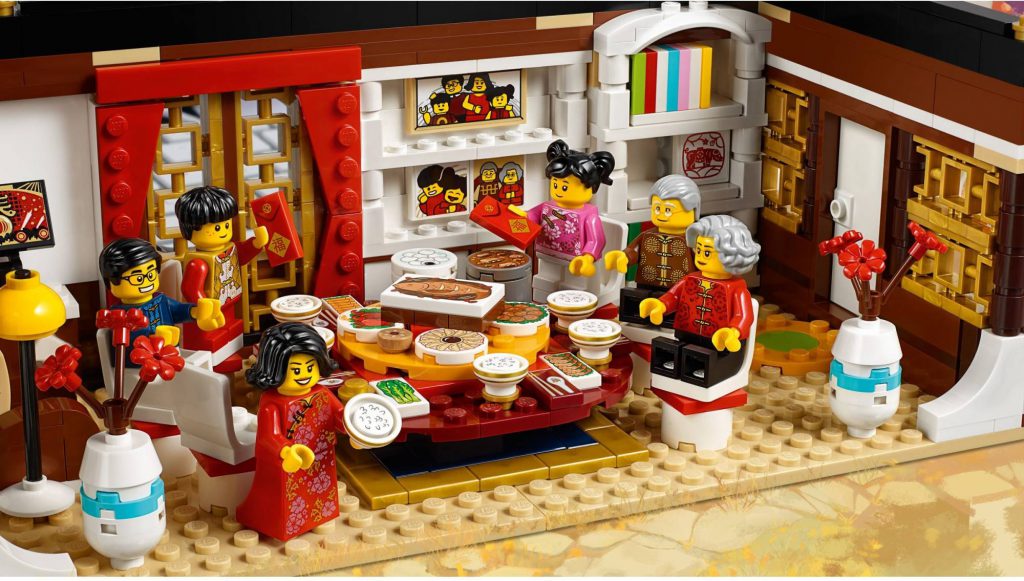 3. Create a Holiday themed Atmosphere
The holiday is a great time to add some holiday mood to your space, and it doesn't have to be expensive. A few ornaments and a few strings of lights are all it takes.
Decorating your restaurant's entryway, dining room, and exterior can help keep customers in a festive mood. It also encourages passersby to come to your restaurant (for selfies and pictures) – which is why keeping some tables for offline reservations is vital.
Here are some tips to help you add a holiday feel to your restaurant:
Decorate your restaurant with lights, and other festive decorations. For instance, if you're decorating for the Lunar New Year, you'd like to lanterns and red packets as part of the decorations.
Add holiday music to the playlist. Even if you don't have a live band on staff, plenty of free playlists are available online that you can stream through your speakers.
Make your staff wear festive holiday attire. Some restaurants even dress their servers up in costumes for this time of year.
Provide a warm welcome for guests. Your servers should greet everyone at the door with eye contact, smile, and ask if they'd like anything else before taking their order immediately.
Provide a warm welcome for employees too! Employees often work hard throughout the year, so it's vital to show appreciation through small gestures such as parties during breaks or something special like a cake for their families after their shifts. This will keep them motivated to serve the customers better every day!
Additionally, encourage your staff to show their creativity. It will help you generate great ideas and make your employees feel more valued as they contribute to something larger than themselves!
Tip: You can reuse items from the last year and develop new ideas to make your place look beautiful while saving money on decoration.
4. Promote Your Restaurant Online
Promoting your offerings online is a great way to drive more customers through the doors. You can use social media, a website, email marketing, and paid advertising to help get the word out.
For example, if you specialize in homemade cookies and other desserts during the holidays. You can send coupons or free dessert offers via email to entice people into eating at your restaurant over other establishments in town.
At the same time, promote your restaurant on social media. Capture compelling pictures to show how you're preparing for the holiday season. You should also share your holiday restaurant menu to attract more people.
For example, share compelling pictures of your Lunar New Year Menu on Instagram to attract more customers. Also highlights that customers need to make online reservations to enjoy the dish.
Here are some more tips to help you promote your restaurant during the holiday season:
Offer holiday gift coupons
Share your holiday menu on every channel, email, social media, website, etc.
Host a holiday event on Facebook and Instagram where users can win special coupons
Create holiday-themed content for your website and social media
Share "behind-the-scenes" photos and videos
5. List Your Restaurant On Promotions and Coupon Apps
Sale and discount coupons are an effective way to attract new customers, especially millennials.
According to a study by Business Wire, consumers are more likely to dine out if restaurants sweeten the deal.
We have partner companies that works closely with Bisync ERP to provide all the necessary tools you need in their app.
Increase your customer base by reaching out to a broader audience
Increase sales by offering deals on food items or drinks
Get more reviews from existing customers
Wrapping Up
The holidays are right around the corner, and if you own a restaurant or any food service business, that means you're gearing up for what is often its busiest time of the year. Therefore, it's critical to plan so that you can adjust your business operations accordingly. Follow the five proven strategies to get the maximum business while offering the best possible experience to your customers!