One of the major pain points in running any F&B and retail businesses is keeping the cost down. How can a business have a solid inventory management so that food cost won't spiral out of control?
This is where a solid management system can help you.
purchases, monitor stocklevels and outlet performance.
That means:
No more guesswork in the procurement department.
No more wasting time searching through piles of spreadsheets.
No more cost-swelling inventory blunders.
What do you gain from that? What about 2 – 10% to your bottom line just by doing weekly inventory counts and fine-tuning your procurement (something Bisync.cloud does automatically, shaving hours of work for your teams every week).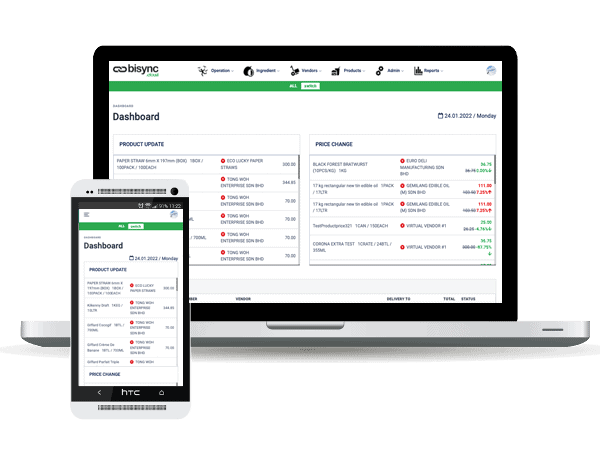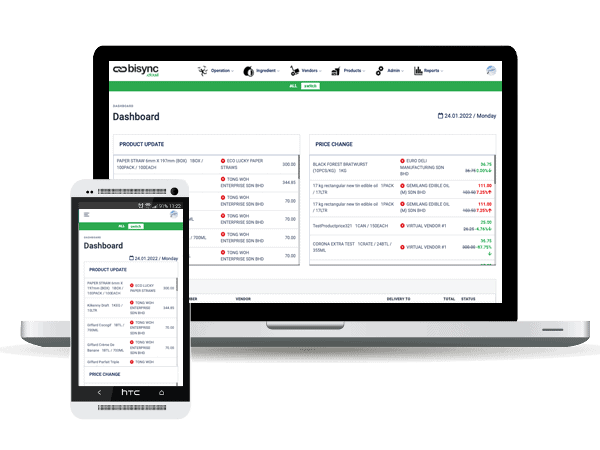 Why is inventory control essential
As a business, one of the treacherous path an operator face is overstocking, understocking, waste and pilferage.
To run a successful business, everyone wants to max out profits without compromising on quality and customer experience. And managing the inventory is not just about the numbers, it's all about what to do with the inventory. At the end of the day, all operators wants to achieve a simple goal. To make sure the actual food cost doesn't differ from the theoretical food cost.
How do we achieve that?
Know the overall health of your operation – Your inventory control needs to be on good as a small error means irrecuperable loss. Through Bisync, you can see all that in a snapshot on the dashboard, with it, you can catch small errors before it becomes a big issues.
Informed cost-saving decisions – In any business whether big or small, you need access to data. Otherwise, you're just shooting in the dark and praying for the best. But, having a detailed overview of your inventory with the ability to cross-compare relevant data, allows you to take swift action as soon as you realize something's not adding up.
Keeping stock wastages to a minimum – Before a lot of our clients adopted Bisync as their system, one of the most common issues faced by them is how the inventory can spiral out of control in more than one occasion. Managing it without the inventory going out of control was difficult as there's stacks of documents to sort through and tons of excel sheets to scan. And only way to stay profitable in this day and age is to make sure the inventory management is on point. Which is why our clients welcome Bisync into their business. To help keep wastages to the minimum.
Taking control of pilferage – Something that happens across a lot of the retail, F&B and hospitality industry, pilferage can take up a good chunk of your operational cost if you don't weed out the issue. With Bisync's inventory management, you can see how much was purchased, and where the inventory flows to. This creates a level of control makes it easier for you to identify and reduce waste, as well as discourage pilferage.
If you want to do inventory the right way, you need to have a system in place that will organize your operation's purchasing, inventory and COGS. Periodically check, recheck, and tweak that system. By doing that, you can recognize and avoid some of these common inventory mistakes:
Relying on gut-feeling to guide inventory processes
Failing to account for internal orders and transfers
Ineffective (or nonexistent) staff training
Disorganized storage locations, and
Too much data, not enough actionable insights
Stock guesstimates is a trap that most operators falls into, especially when trying to cut corners to save time.
With Bisync, you can regain control over your inventory, costing and purchasing because you will be able to work with real, factual data. Stop guesstimating and allow the system to assist you in your inventory management.
It's easy…
Having robust inventory management system that are both scalable and accurate is crucial to keeping food costs down and your profit margin busting at the seams. With a system like ours, growing your busines from 1 to 2 to 4 outlets is a breeze.
If what we mentioned ticked all the boxes for you with the prospect of saving money without compromising on quality, get in touch with us. Schedule a 30-minute demo (you pick the date and the time), and we'll teach you how to make F&B inventory management sexy… easier, faster and scalable.