How many of you faces these obstacles when it comes to managing your inventory?
Lack of awareness on your inventory
Not able to control how much is used and how much is wasted
An increase in competition
Lack of insights
Lack of visibility
Now, what if there's a solution in the market right now that can solve those obstacles?
With Bisync.cloud, you can now control your inventory anytime and from anywhere! A feature packed cloud-based solution that is for you whether you are a single outlet operation or multi-chain/multi-franchise business.
Now, Why is Inventory management so important?
It is important for a business to understand the inventories they have in store. Implementing effective inventory management helps cut costs and keeps accounts and finances on track. With a system like Bisync, you can look forward to better inventory planning – With a proper system, you can take note of which products are already stocked, which is running low and how many is missing or expired. This way, you can plan out your purchasing in advance and cut down on the slow moving inventories. One of the issues most businesses face is overstocking which can affect the bottom line.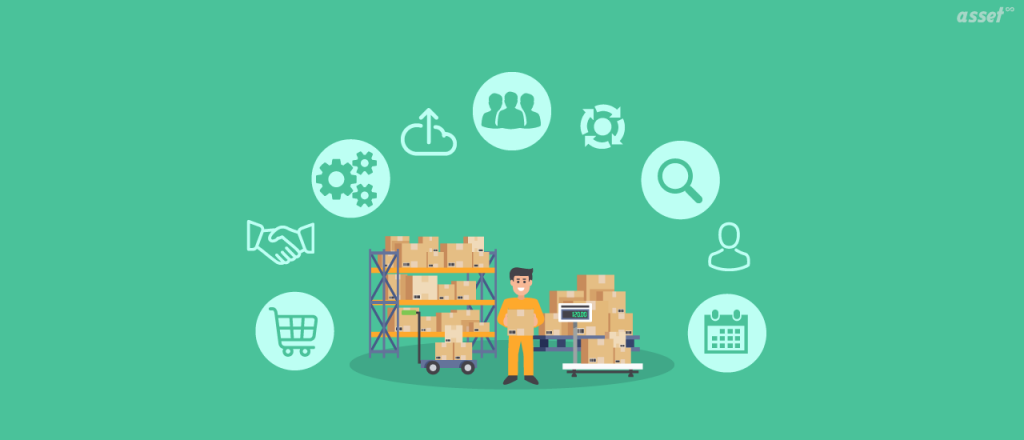 Besides that, Bisync also has other features packed into the system ready to assist you in your business.
The features include:
● Purchasing – Buying things could not be easier, with just a few click of the buttons, your Purchase Order is ready to be sent out to the supplier.
● Stock Transfers – Not only can you manage your inventory locally, now you can also do stock transfers and keep the inventory properly managed in all your outlets
● Wastage Report – The most accurate inventory management needs to also consider wastage.
● Centralised Vendor Management – Instead of worrying about where to source for your ingredients when your own suppliers ran out of it, you can easily use our search function to source for the supplies from our centralised database of vendors that is constantly growing as we expand our system across the globe.
● Menu Engineering – Knowing how much you spend on each menu is important, knowing how much you're selling to make a profit is just as important too. With Bisync, this feature allows you to build not only your product, but your sub-products that can be used across your recipe built.
The Bisync AI is efficient enough to drill down to tell you which ingredients is used for which recipe down to the grams. New chefs came onboard your operations? Print out the recipe card and use the step-by-step reference, now quality and look of the dish can also be controlled!
And with all the features mentioned above, by integrating with your POS, Bisync can automatically deplete your inventory each time an item is used. Giving you an ability to know which item is running low and need to be restocked based on our Suggestive Ordering algorithm. No more wondering whether your inventory has enough for each day's operation anymore, with all the reports the system can generate, you can plan ahead by comparing the spending vs the sales of your outlets.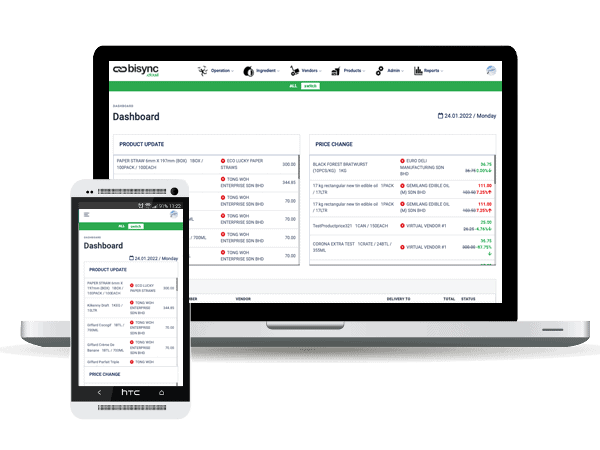 Here's why you should totally consider Bisync to manage your stocks:
Real-time inventory updates
Unit and price of stocks will be taken in automatically through sales and purchases. You get to save the hassle of updating multiple spreadsheets as inventory will be automatically updated whenever you issue invoice and PO.

Monitor your inventory movement
Track and trace your inventory changes easily. The system enables you to track your inventory with current stock and available stock to avoid overstocking.

Low Stock Notification and Alert
The inventory system enables you to keep tabs on your hot selling items and you will never run out of stock again. The suggestive order feature will always notify you when the stock level is low.
Stay connected with the completed stock report
You can review stock on hand and the value of stock anytime and anywhere. Calculate the stock value by using the weighted average cost method and record it automatically into the balance sheet and COGS.
When it comes to inventory management, there you have to consider as it will give a big impact on your business. Using an inventory management software will reduce your inventory management errors, making your business run more efficient, attracting more customers and getting more profits.
An inventory management system is essential in order to create a successful brand and company. Bisync's inventory management system can definitely implement the best solution for your business by optimizing inventory management processes for your operations.
Sign up today for your free trial or drop us a message at sales@cubevalue.com so our team can get in touch with you!